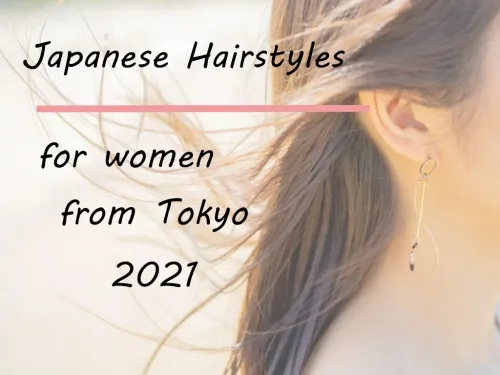 In this article, I have compiled the latest information on Japanese hairstyles from Tokyo.
Tokyo, the center of Japan, is the place where the latest in fashion and trends gather.
I'll tell you about the latest hairstyles from Tokyo, the heart of the city.
The trendy hairstyle for 2021 is the "sotohane," a medium hairstyle that hangs over the shoulders.
Hair flopping at the shoulders became the rage, and hairstyles that nipped at the neck became all the rage.
Bangs that are thin in quantity, called "SHI-SURU-BANGU" are in fashion.
In the past, bangs that were thick enough to prevent the forehead from showing were the mainstream, but now bangs that allow the forehead to show through are in fashion.
I've been a hairdresser in Tokyo for 20 years, and I set the trends for hairstyles.
Based on my experience, I will share with you the hairstyles that are popular in Tokyo, Japan.
Layered Hairstyles
The most popular layered style in Japan is the medium length.
Long and short hair are also in vogue, but medium is the most popular.
The layered style reduces the amount of hair and allows for more movement.
Japanese hair is soft and moves easily, so it works well with layered styles.
Bob Hairstyles
The bob style in Japan is called "pattyun", which is a straight cut bob.
Bob styles with steps were in vogue, but in 2021, bob styles without steps will be popular.
Bob styles with straight cut lines and weight are popular in Japan.
Long Hairstyles
The fashion for long hair in Japan is either loosely curled or straight.
A popular way to curl your hair is to loosely curl the ends of your hair and call it "FUNWARI".
Soft textured curls and perms are in vogue, and beautifully straight styles are also popular.
Medium Hairstyles
The most popular medium-length style in Japan is the one with bouncy ends.
Medium styles tend to bounce off the shoulders and are called "SOTOHANE" because they make you bounce.
The trend is to iron or perm the ends of the hair to create a "SOTOHANE" look.
Short hairstyles
Short styles that are popular in Japan are those with a nipped-in collar and long bangs.
The back of the head of Japanese people is straight, so short styles are popular to increase volume.
The "hansamushort" style with long bangs is also in fashion.
10 Japanese Hairstyles for Women from Tokyo 2021
The hairstyles that are popular in Tokyo, Japan, vary in fashion depending on the length.
However, the trend for bangs is to have low volume bangs regardless of the length of your hair.
The "SOTOHANE" is a trendy hairstyle that is very popular.
Hairstyles that cover the shape of the head are popular among Japanese people.
Hairstyles that become popular can cover the shape of the head and soft textures are also in vogue.